Australia could swing from three years of above-average rainfall to one of the hottest, driest El Niño periods on record, as models show an increasing likelihood the climate driver may form in the Pacific in 2023.
The latest climate models used by the Bureau of Meteorology – which will update its forecasts on Wednesday – indicate sea-surface temperatures may exceed El Niño thresholds in the key region of the equatorial Pacific by June.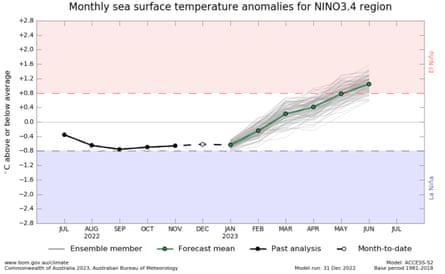 Scientists caution that models may be less accurate ahead of the "autumn predictability gap" in April – the time of year when the Pacific enters a reset mode, allowing small influences to have big effects. But they suggest that after three consecutive La Niña years, the ocean is primed for a switch.
"The Pacific must be quite charged with heat ready to have an El Niño," Cai Wenju, a senior CSIRO climate scientist, told Guardian Australia. "I wouldn't be surprised if we had an El Niño by the end of the year."
Agus Santoso, a senior researcher at the University of New South Wales's Climate Change Research Centre, agreed. "Definitely an El Niño is a prospect [for 2023]", he said. "You could have a weak El Niño. A strong El Niño is a possibility but neutral conditions are also a possibility."
People living on the east coast of Australia will be glad to see the end of the La Niña, which sees strong easterly winds cause the build-up of warm waters north and east of the country, supporting the formation of rain clouds and storms.
Australia notched three straight years of above-average national rainfall to the end of 2022. Extensive flooding in some regions of NSW and South Australia remain ongoing, and Indonesia has also been affected by flooding.
In an El Niño the trade winds stall or even reverse, increasing the risk of severe heatwaves, droughts and fires.
The US National Oceanic and Atmospheric Administration, which uses different thresholds than the BoM to determine La Niña and El Niño events, last month rated odds of an El Niño forming by August-October as a two-in-three chance.
The current La Niña had been of "moderate" strength compared with the 2010-11 event and "is on the way towards decay" by autumn, Santoso said.
One factor in favour of an end to the string of La Niñas is that there are no recorded instances of four in a row, he said. While a La Niña event can be followed by an El Niño, the reverse combination is more common.
Both Santoso and Cai caution that having conditions tilting towards an El Niño does not guarantee one will develop.
They point to 2014, when models indicated an El Niño was very possible but one failed to develop. However, the following summer of 2015-16 produced one of the strongest El Niños on record.
La Niña years tend to be relatively cool at a global scale – and particularly so in Australia – as the Pacific absorbs relatively more warmth from the atmosphere.
Even so, 2022 was on track to be either the fifth or sixth hottest on record, the World Meteorological Organization has said.
Should an El Niño develop, 2023 could turn out to be one of the hottest years in history, building as it would on the background rise of greenhouse gases and global heating.
"When the next El Niño comes, we are going to have much, much worse conditions in terms of heatwaves," Cai said.
A typical El Niño might add about 0.1C to global mean temperatures but he warned the next one might top that "because there's so much heat in the equatorial Pacific".
The intensity and frequency of La Niña and El Niño were likely to increase in a hotter world, Santoso said. The processes that trigger such events were reinforced by the warming of the sea-surface temperatures, enhancing the coupling between atmosphere and ocean.
"We don't know whether [the next dry spell] is going to be a long one or not," Santoso said.