The water temperature around the tip of Florida has hit triple digits — hot tub levels — two days in a row. Meteorologists say it could be the hottest seawater ever measured, although some questions about the reading remain.
Scientists are already seeing devastating effects from prolonged hot water surrounding Florida — coral bleaching and even the death of some corals in what had been one of the Florida Keys' most resilient reefs. Climate change has set temperature records across the globe this month.
The warmer water is also fuel for hurricanes.
Scientists were careful to say there is some uncertainty with the reading. But the buoy at Manatee Bay hit 101.1 degrees Fahrenheit (38.4 degrees Celsius) Monday evening, according to National Weather Service meteorologist George Rizzuto. The night before, that buoy showed an online reading of 100.2 F (37.9 C).
"That is a potential record," Rizzuto said.
"This is a hot tub. I like my hot tub around 100, 101, (37.8, 38.3 C). That's what was recorded yesterday," said Yale Climate Connections meteorologist Jeff Masters.
If verified, the Monday reading would be nearly 1.5 degrees Fahrenheit higher than what is regarded as the prior record, set in the waters off Kuwait three summers ago, 99.7 degrees Fahrenheit (37.6 degrees Celsius).
"We've never seen a record-breaking event like this before," Masters said.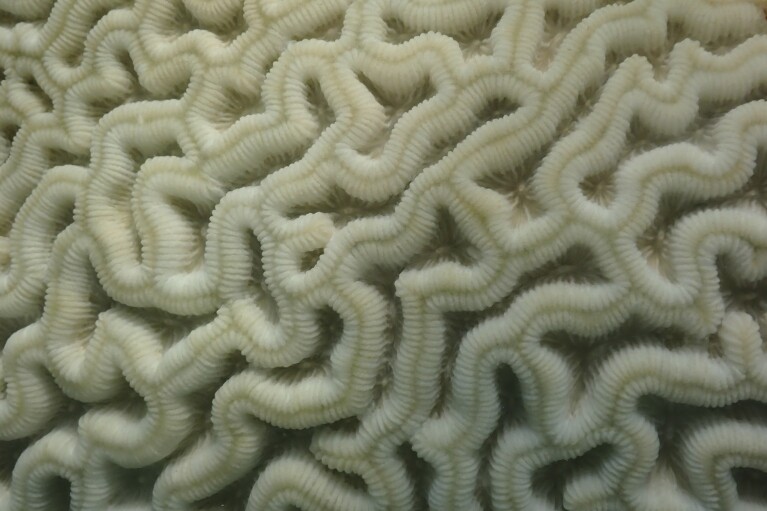 The consequences for sea corals are serious. NOAA researcher Andrew Ibarra, who took his kayak out to the area, "found that the entire reef was bleached out. Every single coral colony was exhibiting some form of paling, partial bleaching or full out bleaching."
Some coral even had died, he said. This comes on top of bleaching seen last week by the University of Miami, when NOAA increased the alert level for coral earlier this month.
Until the 1980s, coral bleaching was mostly unheard of. But "now we've reached the point where it's become routine," Enochs said. Bleaching, which doesn't kill coral but weakens it and can lead to death, occurs when water temperatures exceed the upper 80s (low 30s Celsius), Enochs said.
Masters and University of Miami tropical meteorologist Brian McNoldy said while the hot temperatures do fit with what's happening around Florida, Monday's reading may not be accepted as a record because the area is shallow, has sea grasses in it and may be influenced by warm land in the nearby Everglades National Park.
Still, McNoldy said, "it's amazing."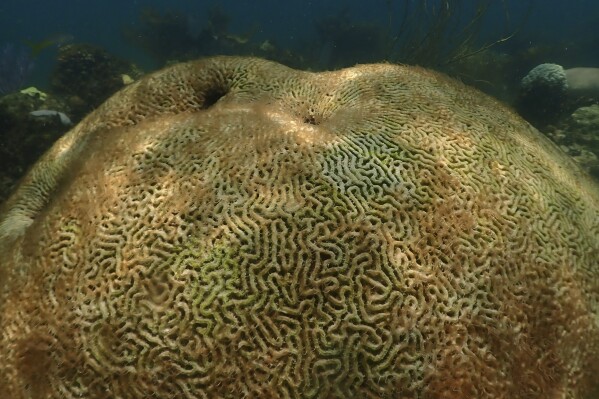 The fact that two 100 degree measurements were taken on consecutive days lends credence to them, McNoldy said. Water temperatures have been in the upper 90s in the area for more than two weeks.
There aren't many coral reefs in Manatee Bay, but elsewhere in the Florida Keys, scientists diving at Cheeca Rocks found bleaching and even death in some of the Keys most resilient corals, said Ian Enochs, lead of the coral program at the National Oceanic and Atmospheric Administration Atlantic Oceanographic and Meteorological Laboratory.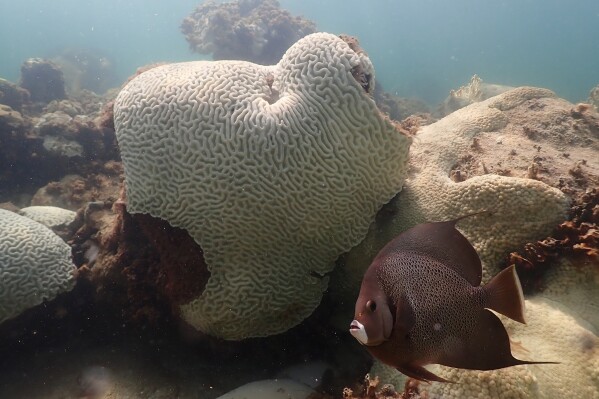 "This is more, earlier than we have ever seen," Enochs said. "I'm nervous by how early this is occurring."
This all comes as sea surface temperatures worldwide have broken monthly records for heat in April, May and June, according to NOAA. And temperatures in the north Atlantic Ocean are off the charts — as much as 9 to 11 degrees Fahrenheit (5 to 6 degrees Celsius) warmer than normal in some spots near Newfoundland, McNoldy said.
___
Follow AP's climate and environment coverage at https://apnews.com/hub/climate-and-environment
___
Follow Seth Borenstein on Twitter at @borenbears
___
Associated Press climate and environmental coverage receives support from several private foundations. See more about AP's climate initiative here. The AP is solely responsible for all content.