Hershey is giving consumers a reason to feel less guilty about indulging in their chocolate passion.
The Pennsylvania-based chocolate producer on Aug. 22 announced a commitment with the U.S. Environmental Protection Agency to jointly spend $2 million to help dairy farmers that supply its milk reduce their environmental impacts.
"Providing financial resources to dairy farmers to reduce greenhouse gas emissions and improve water quality is an intentional business decision," said Tricia Brannigan, chief procurement officer with the Hershey Company. "And it's also critical to our brand identity as a milk chocolate company."
The company's operation in Hershey, PA, is the largest chocolate plant in the world. Part of the reason the company's founder, Milton Hershey, chose that location in 1903 was the plentiful supply of milk nearby.
Nearly all of the milk used at the plant still comes from within 90 miles, according to Brannigan.
"This investment aligns with our value of togetherness, as we recognize that Pennsylvania dairy farms, including those in our supply chain, need to be profitable and sustainable," Brannigan said. "We wouldn't have a company without them."
The company purchases milk for its plant from a dairy cooperative managed by Land O'Lakes. Under the agreement, Hershey and the EPA will each invest $1 million over three years to help farmers in the cooperative reduce both nutrient runoff and greenhouse gas emissions.
Adam Ortiz, administrator of the EPA's Mid-Atlantic region, which includes most of the Chesapeake Bay watershed, hailed the public-private partnership as a way to accelerate the Bay cleanup progress. "It's significant step forward," Ortiz said, "and is going to help bend the trajectory of [Bay] restoration at a more aggressive angle."
Land O'Lakes, which has more than 800 members in its Eastern Region, will select farms to work with, and the nonprofit Alliance for the Chesapeake Bay will assist them in putting pollution control practices in place.
"This particular collaboration brings significant funding, technical support and incentives to help farmers prioritize conservation practices while navigating some difficult market conditions at the same time," said Tim Leviny, a senior vice president with Land O'Lakes.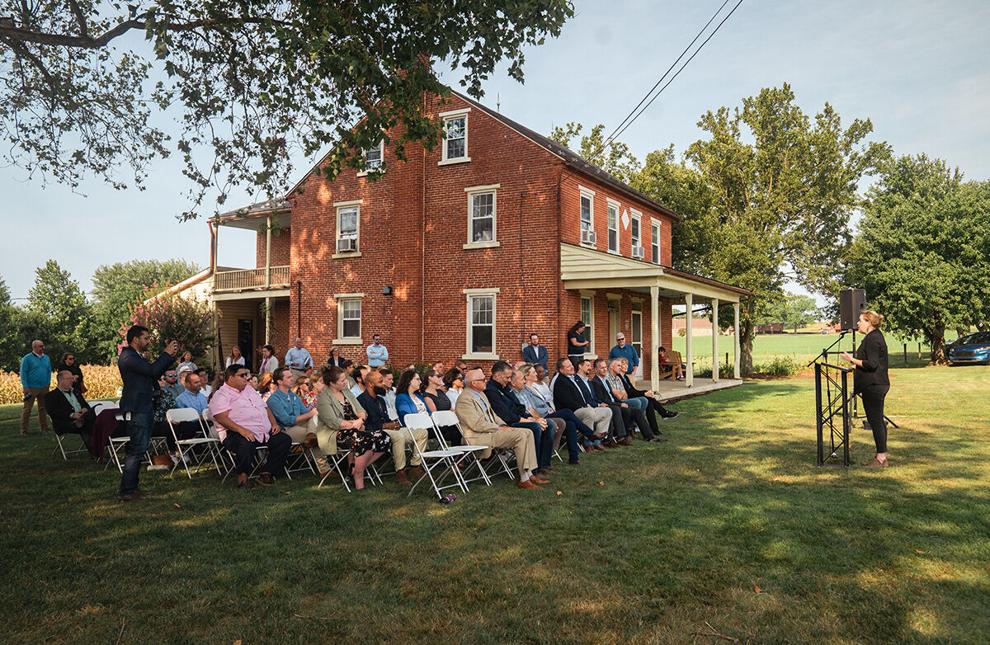 Falling milk prices have put pressure on small dairy farms in recent years, as more production comes from larger operations in other parts of the country — though the density of small farms in south-central Pennsylvania has helped keep them economically viable.
Still, the runoff from those farms can be a significant source of water-fouling nutrients that reach the Bay, and dairy operations are also a significant source of methane, a major greenhouse gas.
Because of such concerns, Leviny said efforts like the new partnership promote voluntary implementation of practices with farmers. "[It's] about future-proofing farm businesses, and the Land O'Lakes enterprise, while respecting our farmers' independence, privacy and ability to make a living," he said.
The announcement took place on the 200-cow dairy farm of Steve Harnish, not far from the Susquehanna River in Pennsylvania's Lancaster County. His Central Manor Dairy practices no-till farming and plants nutrient-absorbing cover crops in the fall. The operation has a covered manure storage facility, streamside buffers and other runoff-control measures.
Harnish said the farm is "not an example for the rest of the industry to follow" but rather is "representative of how the rest of our region is adopting the same practices."
Looking ahead, he said, there are still opportunities to reduce impacts on water quality and to capture methane emissions. And being a member of the Land O'Lakes cooperative is "an opportunity to access resources and funding."
Kate Fritz, CEO of the Alliance for the Chesapeake Bay, said one of the goals of such corporate partnerships is to help share the costs of reducing pollution throughout the food chain, so the burden does not fall solely on financially squeezed farmers.
"This partnership is allowing us to leverage more resources and expertise across the entirety of the supply chain so we are no longer in a situation where we expect our farmers to be the ones to reduce the pollution," she said.
"We are expecting the entire supply chain — from our producers, from our cooperatives, from our purchasers all the way to our consumers — to be part of this opportunity to clean our streams and waters, and to continue to have economically viable agriculture here in the Chesapeake Bay," she said.