While hurricanes and the recent Tropical Storm Ophelia grab headlines due to the number of those impacted, smaller, more localized storms are on the rise and are also causing significant damage where they land.
Tucker said the cost to clean up the trees in her yard alone was about $35,000, which her homeowners insurance did not cover because the trees didn't damage her house.
Delaware County Council Chair Monica Taylor visited days later with other county officials. Taylor said she's noticed the number of these storms increasing.
"They're increasing in number and increasing the severity of storms that maybe, 15, 20 years ago might have only been a thunderstorm," she said.
Taylor's observations sync up to what researchers and insurance companies are finding in their data.
Insurers are tracking climate data and assessing new risks
Recent decisions by some insurers in Florida and California to stop providing homeowners coverage in those states raises fears about how the industry will respond to climate change.
"So insurers, their goal is to collect premiums and to pay out claims that are less than those premiums," said Ben Keys, a professor of real estate and finance at the University of Pennsylvania's Wharton School. "And so when an insurer is not seeing profitable opportunities, they are going to raise their premiums, they're going to cut their coverage, or they're going to leave and stop writing policies."
While experts say Florida and California have unique factors and regulations that don't exist in Pennsylvania, New Jersey, or Delaware, Keys said current and future homeowners should still pay attention to what the insurance industry is doing.
"I think of insurance as being one of the very first movers in a much longer chain of responses to climate risk," he said. "They are the most mobile and have the most money at stake in the event of disasters."
Insurance companies do their own modeling, using increasingly sophisticated tools like satellite data that can drill down to assess localized risks.
Although local storms with high winds and heavy rains may not cause as much widespread damage as a hurricane, and may pass quickly, they can have a cumulative impact on the number of damaged properties, resulting in an increase in insurance claims, said Yulia Gel, a statistician at the University of Texas. Gel has done research for the industry that shows an increase in claims from wind and water damage, specifically in the Northeast.
"I hear increasingly that there are areas where insurance companies don't want to work anymore," said Gel. A number of factors compound Florida's volatile insurance market —  including hurricane risks. California's insurers point to wildfire costs, and state policies, that among other things, restrict insurers from incorporating current and future risks when it comes to assessing rates.
"Our assessment is that the [Delaware], Pennsylvania, and New Jersey insurance markets are very strong, very robust," said Mark Friedlander, a spokesperson with the nonprofit Insurance Information Institute, the group that produces research data for the industry. "They do not have the man-made factors and they don't have the risk assessment factors. So we have not seen conditions in either state similar to what we have experienced in either California or Florida."
But climate change is causing more wind and fire damage locally. Data recently released by First Street, a nonprofit that provides climate risk information, estimates more than 5,000 homes in South Jersey and Delaware are at risk for wind damage, but lack the proper insurance. For parts of South Jersey, wildfire damage is also a growing risk.
What Delaware Valley homeowners can expect
What's more likely to happen in Pennsylvania, New Jersey, and Delaware — are increased rates and changes to deductibles or how policies are structured.
A recent survey by the Society of Actuaries Research Institute, revealed more than half of property owners nationwide said extreme weather events have had an impact on their home.
The institute provides data that helps insurers assess risk, which increasingly includes climate risk.
"We are asking the question: 'What is the prominence of extreme weather events and how are they important in the overall calculation of property insurance,'" said Dale Hall, director of research for the Society of Actuaries Research Institute. "One thing that we're doing a lot more of is looking at what risks like flood and wildfire might be, how they might be changing."
Hall said that the society's research predicts a 40 to 50% increase in nationwide property losses in the coming decades from what they call "off-plain" flooding.
"That's flooding that happens when you're not necessarily in a river or a floodplain, but in major cities, in places where there's a large accumulation of water that could happen from large thunderstorms occurring," Hall said. "Those types of property losses are just going to become a little bit more prominent over the next 10 or 20 years."
Last week's downpours in New York City, which dumped about 8 inches of rain and led to severe flash flooding, led New York Gov. Kathy Hochul to refer to the rainstorm's impact as "the new normal."
But here's the catch — flooding is not covered by homeowners insurance. Only those who live in a designated FEMA floodplain have to get flood insurance.
And while private insurers have begun to offer flood insurance to homeowners on top of regular coverage, very few people — 4% nationwide — have flood insurance. In Pennsylvania, just 1.6% of owner-occupied homes have flood insurance, according to the state's Insurance Department.
"That's really scary because we're seeing more and more inland flood catastrophes," said Friedlander from the Insurance Information Institute. "Just go back to a couple of years ago when remnants of Hurricane Ida struck the Mid-Atlantic. There was catastrophic flooding in Pennsylvania, New Jersey, and parts of New York City as well."
So flooding is not even a factor when it comes to assessing a typical homeowner's risk.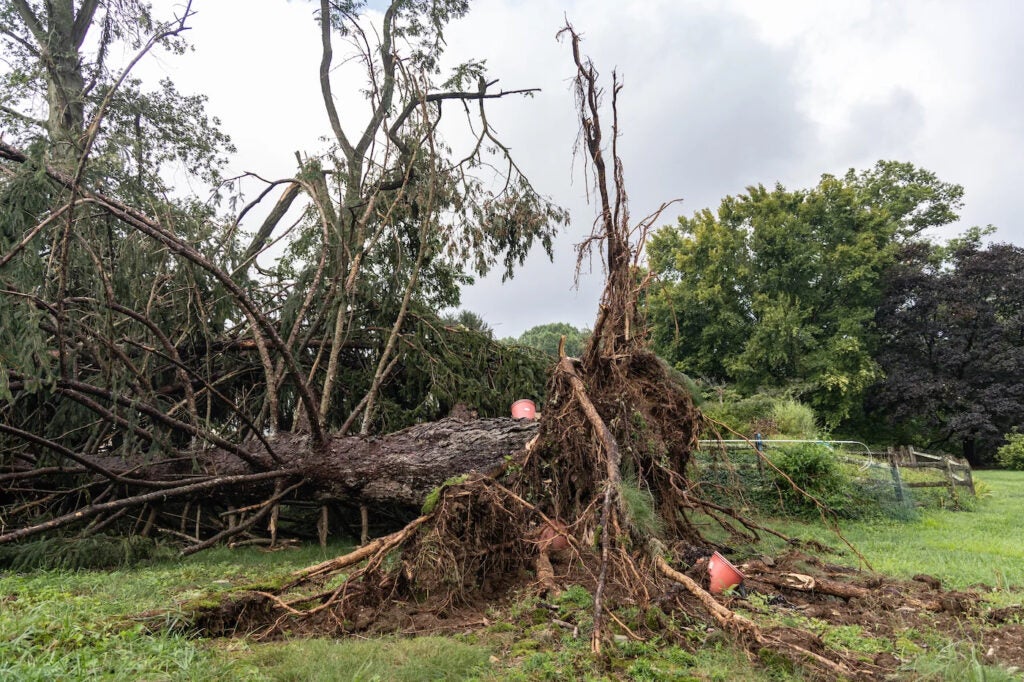 Friedlander encourages anyone not in a designated FEMA flood zone to think hard about getting flood insurance in addition to their regular homeowner's policy.
Still, apart from flooding, Hall said high winds, toppled trees, and other extreme weather damage — like what happened during that August storm in Delaware County — are on the rise.
"The thing that we've started to see a little bit more of is what I'll call more medium-size events," said Hall. "The risk also is that those medium-size events, if you start to have four, or five, or six, or seven of them across a full calendar year, they may aggregate in total to be even more than what we knew 15 years ago as one severe event happening once per year."