King Charles III has won the praise of fashion-conscious social media users after he appeared at a recent Sandringham church service wearing a coat he's been seen in repeatedly over the past four decades.
The monarch attended a Sunday service at the St Mary Magdalene Church on his Sandringham estate in Norfolk on New Year's Day, sporting a longline tweed double-breasted overcoat that drew the attention of eagle-eyed royal watchers.
The royal's fashion moment was quickly picked up on social media with a video heralding the monarch as a "sustainable king" posted by user jessweslie being viewed over 100,000 times within 24 hours.
"I just want to talk about the coat that he is wearing," the user told their 128,000 followers. "This coat that he is wearing, he's had it since like the 1980s. King Charles is king, but he's not wearing new items all the time like, he has had this coat for about 40 years. We love a sustainable king!"
The royal's re-wearing of wardrobe staples was praised in the video's comment section with one user writing: "His shoes too. he's had some of them for over 30 years apparently."
"That's good. He probably has it fixed up and repaired every now and again," posted another.
A number of commenters pointed out that Charles' sustainable attitude towards his clothing is in keeping with his wider eco-credentials, being an outspoken figure on climate change and the environment for decades.
"We stan sustainability," wrote one user, with another adding: "king Charles has been a green advocate forever long before anyone jumped on the bandwagon🥰"
The monarch has become well known for his "make do and mend" attitude towards his clothing.
In 2020, while still Prince Charles, the royal gave an exclusive interview to British Vogue's Edward Enninful, discussing sustainable fashion.
Discussing the morning suit he wore to the wedding of Prince Harry and Meghan Markle in 2018—another fashion look which is over 40 years old—Enninful asked the prince if he ever considered having a new one made.
"I've considered it," he said. "But in the case of that particular morning coat, as long as I can go on getting into it, I only wear it a few times a year, in the summer, so obviously you want to keep those sorts of things going. But if I can't fit into them, then I just have to have something new made. But I'm not sure quite how radically different they can be at my age."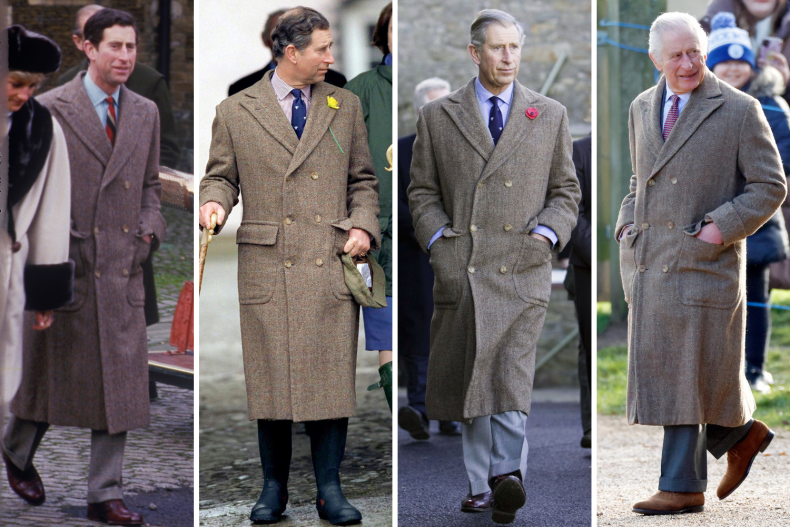 On how exactly he likes to keep his wardrobes functioning for decades at a time, he told Enninful: "I happen to be one of those people who'd get shoes—or any item of clothing—repaired if I can, rather than just throw it away…When I was a child, we used to take our shoes down to the cobbler in Scotland and would watch with fascination as he ripped the soles off and then put new soles on."
Charles has previously been praised for his classic British style and in 2018 was named GQ magazine's man of the year.
The king's environmental work has been picked up and championed by his two sons, Princes William and Harry.
In 2020, William founded the Earthshot Prize which awards funding to fledgling businesses providing eco-solutions.
Harry too has spoken out about global warming and the need to protect, preserve and conserve the environmental fabric of the planet, notably in his 2017 guest-edited episode of BBC Radio 4's Today program in which he interviewed his father and former U.S. President Barack Obama.
After discussing their views on climate change, Charles told Harry that his goal was to "ensure that you and your children, my grandchildren…have a world fit to live in, that provides them with opportunity."
Alongside Charles, a number of members of the royal family have been praised for their re-wearing of fashion looks sometimes decades apart, notably Princess Anne and Kate Middleton.
Newsweek approached Buckingham Palace for comment.
James Crawford-Smith is Newsweek's royal reporter based in London. You can find him on Twitter at @jrcrawfordsmith and read his stories on Newsweek's The Royals Facebook page.
Do you have a question about King Charles III, William and Kate, Meghan and Harry or their family that you would like our experienced royal correspondents to answer? Email royals@newsweek.com. We'd love to hear from you.