This summer, at a brutally hot Grand Canyon national park, something new is popping up at trail heads.
It's a QR code that takes people to a webpage designed for heat-related advice. There, they can find information on current weather and trail conditions, as well as spots along the trails where hikers can find water and general tips on taking care of themselves.
"It's too early to tell how well it's working, but we are getting a lot of eyeballs on it," says Jeff Stebbins, public affairs specialist at the park.
The change is among a range of precautions that officials across the national park system are taking as the summer tourism crush collides with blistering heatwaves – sometimes with deadly consequences.
This month alone, a 57-year-old woman died while hiking at Grand Canyon national park. A father and stepson both died in Texas's Big Bend national park after hiking in 119F (48C) heat. In Death Valley, two people have died including a 71-year-old man who collapsed after hiking a trail at Golden Canyon, and a 65-year-old man who was found in his car dead from "apparent heat illness".
Heat has always been a risk for parks, and visitors, to contend with. In the last decade, at least 26 deaths have been tied to extreme heat at US national parks, according to press releases from the park service. But with July shattering temperature records across the US and the globe, this summer is bringing new challenges.
At the Grand Canyon, Stebbins says there has been talk of trail closures – unless users have backcountry permits. But so far, officials haven't enacted them. Visitation has actually been slow for this time of year, he says. "I think this heat may be dissuading people from visiting, which might be a good thing."
At Death Valley national park in California, where temperatures hit 130F (54C) last week, the number of visitors has skyrocketed as the temperatures soared. The park's busiest months for visitation are March, April, July and August. Half of the visitors in the summer come from other countries – and have planned their trips long before any heatwaves started. A fraction, park officials say, come to the desert park simply seeking to experience the record-breaking heat.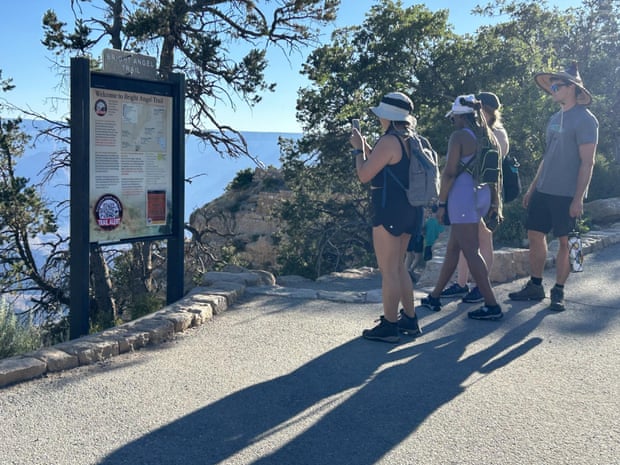 "If it's not windy, the park feels like sticking your body in an oven," says Abby Wines, management analyst at Death Valley national park, speaking to the Guardian on the 13th day of temperatures above 120F (48.8C). "But when it's windy, it feels like being inside a hairdryer."
The park has put up extra signs encouraging drinking water and taking short hikes. Staff also have added red octagonal signs on posts at low-elevation trailheads that say, "STOP. Extreme Heat Danger. Walking after 10 AM is not recommended," followed by a translation in eight languages. Despite the warnings, Wines says that park rangers respond to overheated park visitors multiple times each week, and that rescues are not always possible. Park managers will not put rangers' lives at risk for lengthy search and rescue operations in extreme heat.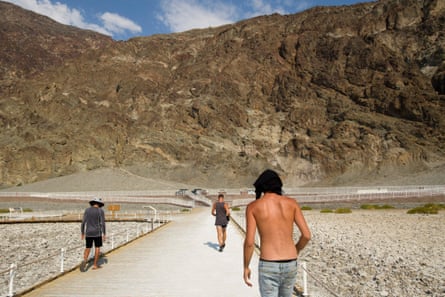 Wines has a strange local hack for dealing with summer heat in Death Valley: since the water in the cold water tap gets heated in the pipes and comes out at hot tub temperatures – about 108F (42C) – in the summer, she turns off the power to the water heater, so that water in the heater can cool down to room temperature. Then, when she turns on the hot tap, the water comes out lukewarm – which is refreshing by comparison.
At Saguaro national park near Tucson, Arizona, where temperatures topped 107F (41C), officials are focused on helping visitors plan ahead, particularly when it comes to hiking and water needs. Volunteers and rangers at Death Valley and Saguaro also do preventative search and rescue operations, during which they patrol the trails to make sure no one is struggling, and make sure they have what they need.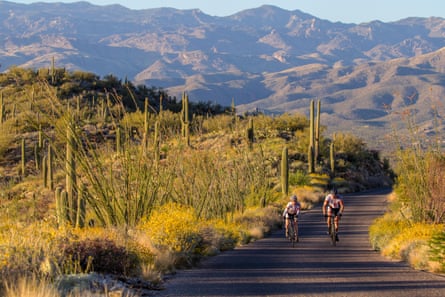 Cam Juárez, a community outreach coordinator, is focused on using social media to get the message out. He says that people coming from out of town have to drink twice as much water as locals, who are more adapted to the aridity and heat of the desert environment.
That's why he shot a video with the park's mascot, an anthropomorphic Saguaro cactus named Sunny who holds a water bottle, with the message "Even Saguaro cactus need to hydrate", says Juarez. "Using humor is a good way to get through to people."
There's another catchy phrase he's coined, and wants hikers to bear in mind. "If your bottle is halfway down, turn around."