Migrant workers in Dubai have been working in dangerously hot temperatures to get conference facilities ready for world leaders attending this year's international Cop28 climate talks, according to a new investigation.
FairSquare, a human rights research and advocacy group, obtained evidence of more than a dozen migrant workers from Africa and Asia labouring outside at three Cop28 sites in early September as temperatures hit 42C (107F) in Dubai – the most populous city in the United Arab Emirates (UAE).
According to visual evidence and testimonies obtained by researchers, the migrants were toiling in extreme heat and humidity on two separate days last month during the "midday ban" – a UAE law banning outdoor work during the hottest hours over the summer months to protect outdoor workers from heat exposure which can be fatal.
"Of course, I get headaches and feel dizzy. Everyone in this heat does. This weather isn't for humans, I think," one worker said.
Another added: "Last week, I thought I would die every second we were outside … but we have to get paid."
More than 5 million people die each year globally because of excessively hot or cold conditions – and heat-related deaths are rising due to the climate emergency. The combination of heat and humidity is particularly dangerous as it compromises the human body's main cooling mechanism, sweating, which increases the risk of heatstroke which can be fatal.
Migrant workers make up about 90% of UAE's private sector workforce, and carry out almost all manual labor in the country including preparations for Cop28 – the UN climate talks which tens of thousands of people including heads of state and diplomats from up to 195 countries are expected to attend.
The FairSquare report is the latest investigation exposing perilous working conditions for migrant workers in the Gulf region, where the vast majority of the private sector workforce are migrants contracted through a sponsorship system controlled by the employer. In neighbouring Qatar, a dozen people from India, Pakistan, Nepal, Bangladesh and Sri Lanka – the only countries that kept track of their citizens – died on average each week between 2010 and 2022 while constructing the World Cup infrastructure.
But experts said that migrant workers being exposed to dangerous extreme heat while preparing conference facilities for world leaders to negotiate solutions to the climate breakdown seems particularly unjust.
"The Cop president wants to talk about climate change and health at Cop28? This report is a perfect place to start. It shows the climate crisis will be particularly dangerous and deadly when laws aren't upheld and rights aren't respected," said Richard Pearshouse, director of the environment division at Human Rights Watch (HRW).
"The story of migrant workers in the Gulf region is a story of climate injustice," said Amali Tower, executive director of the non-profit Climate Refugees.
A Cop28 spokesperson said the contractors had denied the alleged violations and an internal investigation found no evidence that the midday summer ban had been violated.
Dubai is built almost entirely on fossil fuel wealth, and the UAE is the world's seventh biggest oil producer with the fifth largest gas reserves. The national oil company chief, Sultan al-Jaber, will lead this year's UN climate talks, which come at the end of the hottest year on record and devastating wildfires, drought floods and storms hitting communities across the planet.
Very high temperatures are the norm for three to five months every year across the Gulf region including the UAE, and often extend beyond the middle of the day.
The UAE summer work ban came into force in 2022, and prohibits work in open spaces and direct sunlight between 12.30pm and 3pm between 15 June and 15 September, with a handful of exceptions for time-sensitive work such as pouring concrete.
The UAE prohibits work for the least time of all the Gulf states – just 233 hours a year – about half that of Kuwait and 40% of the hours banned in Qatar. Despite recent reforms, trade unions remain unlawful and the Kafala sponsorship system still gives employers control over migrant worker's visas and lives, according to HRW.
FairSquare, a UK-based rights group, obtained photographic evidence and testimonies from migrants working outdoors at Expo City, Dubai's premier conference facility which is being adapted to host Cop28. The workers appear to be moving large, heavy items and on scaffolding in harnesses at the Dubai Exhibition and Convention Centre and the Opportunity site. The sites will be within or adjoining the "blue zone", where world leaders and diplomats will meet and negotiate.
According to FairSquare's report one worksite supervisor told researchers: "The project has to finish in time. Cop28 is just weeks away. Most of the work only takes place at night anyways, but some work has to take place whenever it can. There is no time, we have to finish."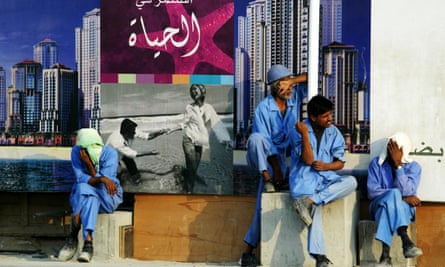 According to the report, the men were working without breaks when the Wet Bulb Globe Temperature (WBGT) – a measure to determine heat stress based on the temperature, humidity, wind and cloud cover – at Dubai airport ranged between 31 and 33C (88 to 91F). The US Occupational Safety and Health Administration (Osha) recommends regular breaks from strenuous work when the WBGT tops 25C (77F).
"The economic engine that allows the prolific construction of luxury high rises and the survival of the conference and tourism-centred economy in Gulf countries is south-east Asian migrant workers, who in many cases have already been forced to flee the crippling economic and social impacts of climate change in their own countries," said Amali Tower from Climate Refugees.
She added: "The UN's efforts to ensure regional representation for Cop locations and its commitment to multilateral diplomacy should not prevent it from calling out human rights violations by host countries, whether in the Gulf or elsewhere."
A Cop28 spokesperson said contractors were required to have worker heat safety plans and weather stations that monitor the Thermal Work Limit, taking into account heat and humidity metrics including wet and dry bulb temperature and wind speed. "Cop28 works very closely with Expo City Dubai, and have every confidence in its robust worker welfare policies and procedures."