HULL, Ma.—Whenever a storm is coming, the fire company in this town of 10,500 jutting into the Atlantic Ocean sends a truck and personnel to wait in an old fire station on the northern tip of the peninsula.
---
All too often, said William Frazier, the deputy fire chief, the sea will wash over the single road on a narrow neck of the peninsula, and residents will be stranded. They have used boats to get some people to the nearest hospital 12 miles away, he told Environmental Health News (EHN).
It's a looming issue for millions. Recent research predicts that many more Americans will find themselves regularly "stranded"— cut off from essential services, rescue workers and health care — long before flooding actually reaches their homes.
"The [old] assumption is you can no longer reside in your home when your home floods," Allison Reilly, a University of Maryland assistant professor of engineering who co-authored a study examining the rising risk of isolation, told EHN. But communities and residents may find themselves stranded "decades sooner" than that, she said.
Researcher Reilly and co-authors in New Zealand overlaid census maps, road maps, and sea level rise predictions under different scenarios. They concluded a commonly- used estimate that 4.6 million Americans will be at risk of flooding by 2100 "could be too low for understanding the sea level rise burden." Even by 2050, the study says, as many as 1.5 million Americans could be stranded. Those who are disenfranchised are least able to adapt, and therefore, more likely to be deeply affected, Reilly said. If their neighborhoods are cut off by rising waters, "what can you do if you have an ambulance on the other side of an area that's flooded?"
"[People are] unable to get to places of work, or hospitals [or], grocery stores, probably sooner than we're planning for," she said. With climate change, planners are facing an accelerated timetable for the impact of rising sea levels, warns the study published in the journal Nature Climate Change.
As a result, many emergency service officials are planning ahead: buying boats and high-water vehicles and applying for grants to raise highways and bridges, to reach people that may be cut off by storms or rising sea levels, said Rob Dale, an emergency manager in Ingham County, Michigan.
"Maybe they make that bridge higher, or maybe they've got an urgent care center that they can flood proof," he said. "Even if you were doubting [climate change], the last few years has absolutely changed. I think everyone's on board."
"We are all an island"
Several places on the thin peninsula of Hull, Mass., are choke points, regularly overwashed, cutting off whole neighborhoods.
Credit: Doug Struck
Ellie Destito recalled being "petrified" the first time seawater surrounded her home in Hull and kayakers paddled past her windows. She was in a house above the water, elevated on five-foot foundations, but completely cut off. It's now happened repeatedly in her 45-year stay on this narrow peninsula, she said. But she is not going to leave.
"I don't have another move in me," Destito, 73, told EHN.
Destito's neighbors, John, Paula and April Smith, said they had to be carried out of their home by firefighters and ferried away with a National Guard high-wheeled vehicle. Destitio is furious that the town is planning to fill a playground behind her home; she said it will further aggravate the flooding.
"We are all an island" when that happens, she told EHN. "You can't get to your house or out of your house."
But residents resist talk of leaving. "It's a tough conversation," Christopher Krahforst, the climate adaptation director for Hull, told EHN. "Nobody wants to buy into a planned retreat. They want to stay put."
The town is adding to beach dunes, bolstering sea walls, updating stormwater drains, encouraging homeowners to raise their homes on stilts and contemplating how to make the sewage treatment plant flood proof.
Hospitals vulnerable to flooding find news ways to cope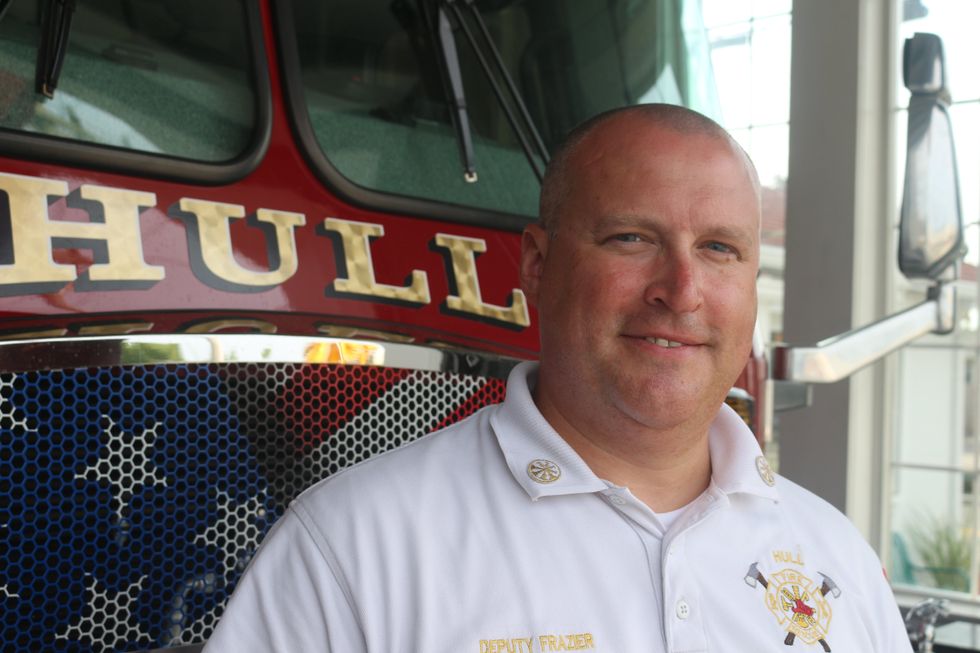 Hull's deputy fire chief, William Frazier, says the department stations emergency personnel and a firetruck on parts of the peninsula likely to be cut off when high tides or a storm approach.
Credit: Doug Struck
Even if residents can get out, there is a question as to whether they'll be able to get to a functioning hospital if needed. Alexandra Tarabochia-Gast, a family physician in Baltimore, joined with researchers in Boston to study the vulnerability of hospitals on the Atlantic and Gulf coasts to storms.
"We can't think about hospitals operating as an island. There needs to be access," Tarabochia-Gast told EHN in a phone conversation. After hurricanes Sandy, Harvey and Katrina, she said, reviewers found "the hospital itself might be operational, there may be no flooding. But if the roads are flooded around it, you can't get staff in or out. You can't get any of the goods in or out, or patient transport."
Their study, published in September in GeoHealth, concluded that even with a relatively modest Category 2 hurricane, communities in Florida, New York and Massachusetts would see flooding that cut off more than half the roads surrounding many hospitals.
Tarabochia-Gast's study noted that 2012's Hurricane Sandy cut off electricity to 40% of the hospitals in its path, and backup generators failed at a third of those. They estimated that, if sea level rise continues at the current rate, by century's end 147 hospitals within 10 miles of the coasts would be flooded during a Category 1 storm, the weakest of hurricanes… Relatively weak hurricanes may flood many hospitals that care for roughly one in four Americans, the study concluded.
Some hospitals are ready for this scenario. In Boston, plans for a new Spaulding Rehabilitation Center building were revised after Hurricane Katrina in 2005. In that New Orleans disaster, nursing homes and a major hospital became death traps when floods cut all access, smothered ground-floor utilities including electricity, air conditioning, water and sewer and desperate staff could not open windows to combat 100-degree heat.
Spaulding Hospital, located almost at sea-level in the Charleston section of Boston, was redesigned to allow floodwaters to pass unimpeded through the ground floor, with patients on higher floors and utilities on the roof. Windows open for ventilation; the building is ready with water, food and emergency generators.
"Our strategy is to make sure we've got what we need to operate the building," John Messervy, head of design and construction for Mass General Brigham, which owns Spaulding and 11 other hospitals, told EHN.
Many of the preparations for a hospital—such as bringing extra staff in—have to be done before a storm hits to avoid flooded roads, he said. "We're not a business that can close the doors and send everybody home if there's bad weather coming."
Messervy noted, however, that "medical service delivery is evolving, too." More care—even for such things as dialysis—are being done remotely at patients' homes, which could be a key strategy when access is cut off.
Joseph Kvedar, a professor at Harvard Medical School who has been advocating for remote health care for more than three decades, sees telemedicine as a tool for reaching stranded patients and also for communicating with emergency personnel who cannot reach a hospital.
"In the field, you make split-second decisions that are literally life and death decisions. And that can be really facilitated by connectivity back to the emergency room," he told EHN.
He said remote care burgeoned 24-fold during the Covid pandemic and is now more widely accepted.
"If a procedure is required, if physical hands-on-something is required, that's not the role for that technology," he noted. "But other than that, it's quite useful."
"You might not be in a flood zone area, but you might be in an isolation risk area"
Even if roads are passable, homes become uninhabitable if community power plants, water supplies or sewage treatment plants are inundated.
Vincent Murphy, sustainability manager for Nantucket, told EHN the Massachusetts island town is planning to move utility lines further back from bluffs that are inexorably falling into the sea, threatening homes and utility lines. Other neighborhoods, including one with 500 people, are in increasing risk of isolation.
"You might not be in a flood zone area, but you might be in an isolation risk area. You can't get to the hospital. An ambulance could have trouble getting out to you," Murphy said. "But it's also a fact that you might not just be able to do the simple things like even get to the grocery store, let alone medical emergencies."
Reilly, whose research is often on the flat Eastern Shore of Maryland, said this question already is in the air.
"I talked to a couple out in Eastern Shore who are older," she said. "They have decided to relocate because of flooding, but not because their house is flooded. They said that they have moved, in part, because getting to their doctor's office or the hospital has just been too challenging."