There are many better places to be in Spain than Madrid when recordbreaking temperatures bring summer's ruthless heat in spring, prompting government health warnings, action plans from regional authorities and the familiar agonising wait for outdoor public pools to open.
There are also many better places to be in Madrid when the mercury nudges 30C (86F) than under a woolly hat inside a furry Sonic the Hedgehog costume in the elegant, shadeless air fryer that is the Spanish capital's Plaza Mayor.
But for Carlos, 49, the perspiring Peruvian beneath the Sonic suit, and for all those who work outdoors – the street sweepers, postal workers, builders, food delivery cyclists, waiters and hawkers, to name only a few – the job is the job, whatever the thermometer says.
Carlos and his colleagues in the plaza – who today include Chucky the homicidal doll, Super Mario and Bart Simpson, decked out in the Real Madrid kit of Vinícius Júnior – know that the sun brings tourists, and tourists mean photo opportunities and money. But the work is punishing. How is it inside Sonic's synthetic skin?
"Awful, awful, awful," says Carlos. "The suit burns. I work six or seven hours a day. But on a good day, I can make €50 or €60."
After explaining that he has to wear a woolly hat under Sonic's head to absorb the sweat, so that it doesn't stink up, Carlos wanders off in search of someone to pose beside.
At the beginning of a week that has seen April temperatures in Spain soar 7C to 11C above seasonal averages, the government reminded people to stay hydrated and make regular checks on vulnerable people such as babies, children and older people.
On Wednesday, Madrid's regional government announced emergency heat protocols in care homes, said that schools could choose their timetables to help them deal with the high temperatures, and brought forward the opening of public swimming pools by almost a month.
A day later, Spain's highest April temperature to date – 38.6C registered in Elche, Alicante, in 2011 – was exceeded when the mercury reached 38.8C in Córdoba. As it peters out, April 2023 is set to become the hottest, driest April in Spain ever recorded. The culprit is hardly unexpected.
"When it comes to the relationship between this kind of weather and climate change, we know that extremely high temperatures have become more frequent and more intense, and this intense and extreme heat is arriving earlier," Rubén del Campo, a spokesperson for Spain's state meteorological agency, Aemet, said earlier this week.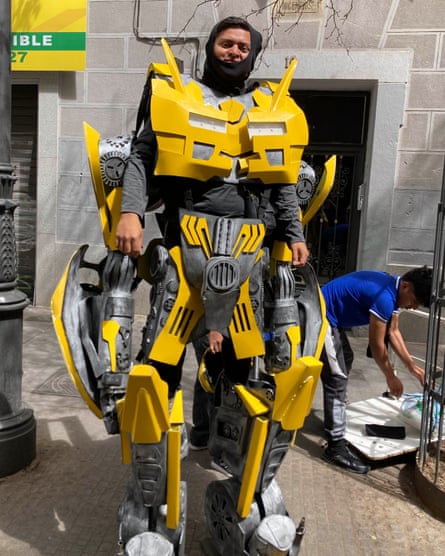 "Although each episode needs to be analysed individually and in detail, this episode fits with what's happening because of climate change."
Memories of last year's heatwaves and forest fires are still fresh in Spain. In May 2022, temperatures in parts of the country exceeded 40C. Two heatwaves in June and July were accompanied by wildfires that claimed three lives in the north-western Zamora province. On 15 July last year, José Antonio González, a 60-year-old street sweeper in Madrid, died of heatstroke after his shift in temperatures of around 40C.
Spain's prime minister, Pedro Sánchez, was blunt in his appraisal of the situation. "I want to make something very clear," he said during a visit to the south-western region of Extremadura last July. "Climate change kills: it kills people, as we've seen; it also kills our ecosystem, our biodiversity, and it destroys the things we as a society hold dear – our houses, our businesses, our livestock."
One of Madrid's problems is that many of the capital's streets and squares are not designed with such high temperatures in mind. Unless you stay in the shadow of its arcade or beneath the umbrellas of its pricey restaurants and cafes, shade is nonexistent in Plaza Mayor. The nearby Puerta del Sol – currently being renovated and repaved – is a treeless concrete oven.
"The thing about Madrid is that it really heats up," says Facundo, a 45-year-old Argentinian who takes restorative sips of yerba mate as he waits for customers at the city-centre pavement stall where he sells metal figurines.
"By the end of the day, you can feel the heat coming off the streets and the walls."
Also keeping an eye on the temperature are three young Guatemalans who take three-hour shifts inside a 20kg suit of the Transformers character Bumblebee not far from Puerta del Sol. "It's a bit difficult to work in this heat," says one. "And you really feel the heat once you've got the suit on. You need to drink a lot of water and to stop moving about when you feel tired."
As the morning's dirty, light-grey sky gives way to a cloud-speckled blue and the sun removes its gloves, Jaime Martínez shrugs off the heat and tuts at the tourists.
The 57-year-old veteran lottery ticket-seller for ONCE, Spain's national charity for blind people, has manned his stall near Madrid's Teatro Real opera house since 1988.
"I've been working this stall for 35 years, so I'm used to the heat," he says. "When it gets a bit too hot, I grab a bottle of water." But Martínez acknowledges his luck: his stall has a shade and sits beneath a tree, and starting work at 7am each day means he can head home mid-afternoon, before the heat is at its worst.
The tourists milling around the square, and occasionally asking directions to the royal palace, could do worse than follow his example. "They come here and they want to soak up all the sun in one go and take it home with them," he says. "The only time they put cream on is when they're already burned."
His simple advice applies to madrileños and visitors alike: "Don't come out at the hottest times of the day and use sun protection."