One day in 2020, close to the beginning of the Covid-19 pandemic, Matt Rickett realized he was checking weather apps all the time. He immediately understood why: "Everything felt so unpredictable, so out of control," he says. "Just knowing that something was going to happen, tomorrow, that people said was gonna happen, was reassuring."
The next year Rickett, who lives in Austin, Texas, decided to stop using social media: "I didn't like the control it had over my life," he says. "But I still had the energy, the need to look at my phone, for some reason. So I got even more into weather."
He checks apps roughly every couple of hours. After much trial and error, he's decided he likes Weather Underground and Forca the best. He also uses apps' radar functions to try to track storms and precipitation. When he boards a plane, he checks the flight path using radar, too, so he has a better sense of whether to expect a bumpy landing.
The temperature in Austin has been in the 110s Fahrenheit (40s Celsius) for weeks; he'll keep checking the apps, even when he knows no change is likely. Or else he looks at the weather in other places, where it is less hot, and he has family, and will think: "Oh, maybe I can just go there for a little bit."
It's behavior that Jess Green, who lives in Liverpool, England, might relate to. During last summer's unprecedented heatwave in the UK, she says, "there was a lot of talk of: 'will we make it to 40C?' I kept checking in the hope that we wouldn't." She would watch the numbers rise on her app, with trepidation, and would then feel relieved to see them peak, thinking: "We're on our way down; and things haven't burst into flames." She would check different locations. "I would think: so it's not a record temperature in Liverpool today. That's great. But what about London?"
She has three weather apps on her smartphone, but recently a widget has started popping up, unbidden, on Microsoft Edge on her computer. "It asks: 'do you want to know about record temperatures today?'" Then a quiz appears, asking whether the day's temperature is above or below average, historically. "That has made my obsession quite a lot worse," she says. In many ways, she points out, it would be odd not to feel anxious, given the climate emergency. "But it's a bit like the pandemic. It's unprecedented, so it's hard to tell if your anxiety is proportional to the threat you're feeling."
Preoccupation with weather apps is commonplace in our current unsettled atmosphere. On social media there is almost as much chat about weather apps as there is about the weather: much of it is ire about inaccurate forecasts; some of it is from users who admit checking weather apps more than seems logical. There is still palpable grief, in the wake of the closure of the short-term weather prediction app Dark Sky, late last year, after its acquisition by Apple. In April, when Apple's weather app went down, there was such outrage that the temporary glitch became an international news story.
Fifty per cent of US smartphone users regularly use weather apps; according to Statista, weather apps will make approximately $1.5bn in revenue in 2023, a leap from $530m in 2017.
Jeremiah Lasquety-Reyes, a senior analyst for Statista, says this new weather app ecosystem is only going to grow, owing to the climate crisis, as well as a general trend towards "digitizing one's life and schedule".
There are certainly plenty out there, catering to a variety of needs: more than 10,000 apps have the word "weather" in the title in Android and iPhone app stores.
Jennifer Simms lives in Texas where, she says, "it's fucking hot, girl. It's soul-sucking." One of her favorite apps is called What the Forecast??! and provides light relief on sweltering hot days with forecasts that read, along with the temperature: "You don't have to look. I'm fairly sure the thermometer just says: 'Satan's butthole'."
You can understand why Simms might appreciate a bit of gallows humor, having lived through two tornadoes, including one which "blew out all the windows in the back of my house. Little shards of glass stuck in the walls. It was hard." She has also experienced storms with baseball-sized hailstones which "creamed everybody's cars – mine was totalled", she says.
Simms is 65; when she was in her 40s and 50s, she says, she didn't care about the weather at all. Now she checks three apps, watches storms on their radar functions, is signed up to severe weather notifications from the National Weather Service and watches the weather on TV. "From March through to October, I'm a weather channel whore," she says.
Her primary concern is keeping her car safe from hail. The climate crisis fuels her anxiety. "Our weather is so crazy now," she says, of the recent 116F (46C) Texas weather. She adds that poor infrastructure means that there are no longer tornado sirens in her town, so extreme alerts on her phone are a matter of survival.
Weather apps with personality are a burgeoning subsection of the market. One, Carrot Weather – which, like Dark Sky before it, has an ardent social media fanbase – also aims to lighten the mood. ("Jesus fire-breathing Christ, it's sunny," read my forecast, one bright Wednesday when it was 86F (30C) in Brooklyn.)
People like "the unexpectedness of it", says the app's developer, Brian Mueller. He makes a point of including jokes that "poke fun at climate change deniers". There is also a considerable element of gamification: users can unlock "achievements", many of which involve living through terrible weather – three days straight of rain or a day with a dangerously high UV index. The premium version has maps, radars, notifications, widgets and a lot of customisation capability, as well as a weather time machine, enabling users to check the weather, on this day, in their location, as far back as 1930.
Weather apps offer multiple data points, from the timings of sunrise and sunset, to phases of the moon, to local pollen levels. Some feel increasingly important as the weather gets worse, like the "feels like" stat, which estimates how unbearable, or otherwise, the heat really is, taking variables including humidity and wind into account, or air quality index maps that much of the east coast became glued to during the Dune-like hazy days of smoke from Canadian wildfires. Sometimes these data points can feel a little bit vague. What the Forecast??! has a "bee index", as well as indices for swimming, cold and flu, campfires, sinus, golf and arthritis, though precisely what those indices mean is not always immediately clear, nor are their sources cited.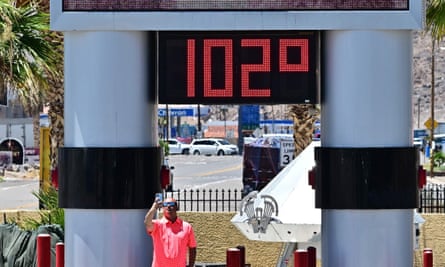 To some extent this boom of information is reflective of real developments in the meteorology world. Eric Floehr, the CEO and founder of ForecastWatch, a company which analyzes the accuracy of weather forecasts, says forecasts are more accurate now than ever before, and they update more often, too – some as frequently as every 15 minutes. "So that's more relevant and timely. And because it's more relevant and timely, you want to look at it more," he says.
Floehr, who lives in Ohio, "obsessively" checks one app, RadarScope, for tornadoes when there are nearby storms. He says a recent boom in accessibility and real-time access to radar technology has played a huge role in the boom. Dark Sky was a pioneer of "radar interpolation" – looking at a radar image and a storm's velocity to predict when it will arrive – which felt like magic to many when they first used it. It also made weather forecasting feel like a news feed to be followed. "They were one of the first 'always-on apps'," says Floehr. "You didn't just check once a day, you checked every minute."
Little wonder that weather apps may be getting some people hooked. Anna Lembke, the psychiatrist and author of Dopamine Nation: Finding Balance in the Age of Indulgence, says weather apps are very attractive to our dopamine-seeking brains. "Not just the quantification but also the way that those numbers are displayed, the graphs and the charts. The brain has a way of really glomming on to numbers," she says.
It is perhaps ironic, then, that even as many become highly attached to weather apps, the question of whether they actually work very well remains unclear.
Many say that it is merely our hyperawareness of the weather – our heightened expectations of accuracy now that we have an hour-by-hour forecasts in our hands – that gives the impression that forecasts are getting worse.
Even today, with more sophisticated weather forecasts than we have ever had before, there are things forecasting models don't do well, including long- and medium-term predictions of "convective thunderstorms", and predicting "precipitation amounts, especially with snow". Forecasts are also better at "climatologically normal" forecasts, rather than at predicting extremes, Floehr says. And in certain areas, where there is a microclimate, or less radar coverage, they are less likely to be accurate.
Many meteorologists say they won't use apps, however; they advise checking the National Weather Service's website as a first port of call. Though many apps use the same data as the National Weather Service, it is often unclear which parts of the data they use, and how their models tweak it. There is an argument, too, that presenting the weather largely as a series of numbers, or symbols, is an oversimplification that confuses the average smartphone user (for example: some see 50% next to a rain cloud on an app and think it will be raining for 50% of the day, but, as a human meteorologist delivering a forecast would explain, it actually means that there is a 50% chance of precipitation).
Even if they are, occasionally, a bit inaccurate, says Green, checking them feels like it helps. "It definitely gives you a sense of control."
After three years of lockdowns and canceled plans, wildfires, storms and heatwaves no wonder many of us are frequently checking weather apps, out of fear, out of hope, acutely aware of the rarity of perfect conditions. Perhaps it's no bad thing. "I think people are more in tune," says Floehr. "They see that the weather is becoming more extreme. Hopefully that will result in action. But for now, at least, it's resulting in interest."